Fun Ride Flight Sim.
Alpha One – Fun Ride Flight Sim.
Cessna C172 Single Engine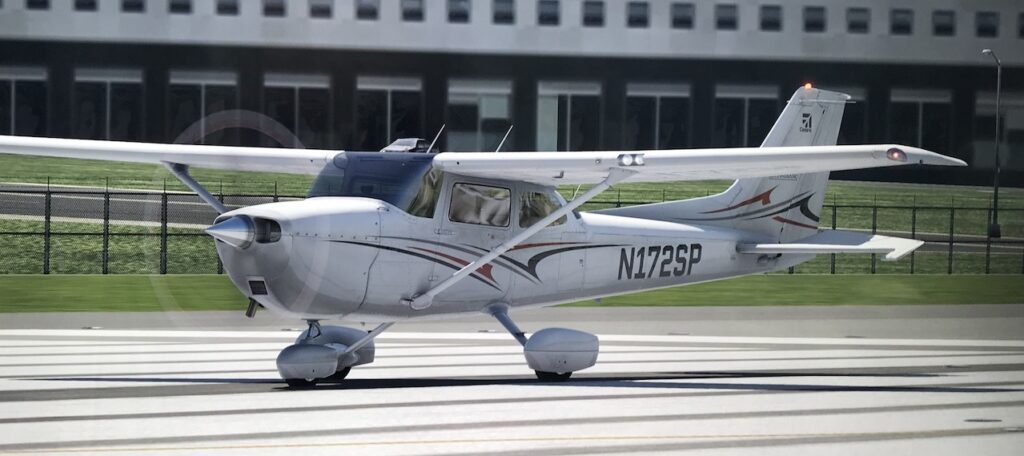 Tecnam P2006T Multi Engines

"Fun Ride" is suitable for kids with lowest age from 4 years old. Duration with min. 15mins session included 15mins briefing, photo taking and simulator session for customers to experience the fun & challenge about flying, which may become a remarkable moment!
---
Bravo – Flight Sim. Course (First Solo)
Flight Sim. Course (First Solo) is suitable from secondary students to adults, it design based on flight training manual modules, explaining related theories and skills. Client expected to fly a circuit without instructor intervention upon completion. Six one-hour session consists of 40mins of theory & 30mins simulator, which cover following:
1) Taxiing, 2) Cruise, 3) Climb & descent, 4) Turns & Stall, 5) Approach & landing, 6) Circuit and emergency handling.
Course fees: HK$ 5,500

Charlie – Flight Sim. Course (Basic Nav.)
Flight Sim. Course (Basic Nav.) also design based on flight training manual modules, explaining navigation theories. Client expected capable to fly different types of instrument approach upon completion. One-hour session consists of 40mins of theory & 30mins simulator, which cover following:
1) Visual Navigation, 2) VOR, 3) DME ARC, 4) VOR radial intercept, 5) VOR & GNSS Approach, 6) Instrument Landing System – ILS.
Course fees: HK$ 5,500

---
Foxtrot – Family Flying Activity
Design for family with kid(s) age from 4 to 7, consist of 20 mins flying theory related activity and 20 mins C172 flight simulation, aim to improve communication and relationship between parent & kid(s), which becoming remarkable memory of growth. (A certificate will be issued after completion)
Activity fees:
HK$ 1088 for family up to 4 members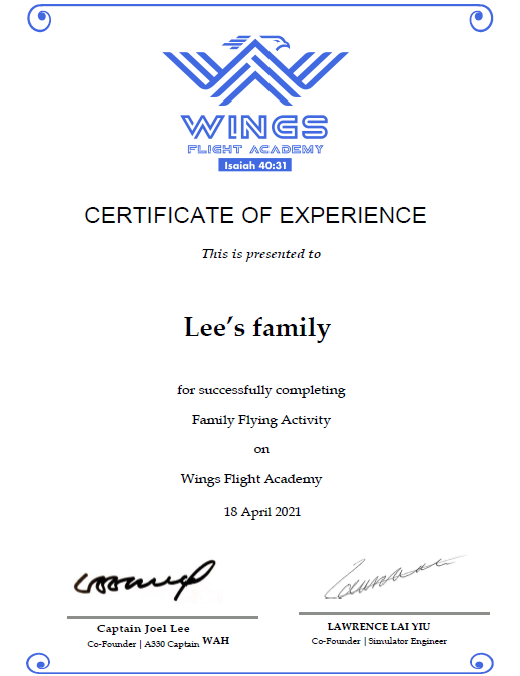 ---
Wings – Birthday Flight Experience Package
Design for boyfriends/girlfriends, couples & parents whom would like to offer a remarkable birthday experience to the special one. Wings birthday flight experience package is the best fit!
Package fees:
HK$988
Package included total 20mins for C172/P2006T flight sim experience (10mins each) plus the followings:
Birthday Experience Certificate / or
Metal or Wooden aircraft puzzle
---
Phases of experience
Registration – When you upon arrived WFA, please check-in!
Briefing with flight theory & control by flight instructor – Your guests and you will be invited to briefing area, the short briefing with basic flight theory and control will be given by WFA crew. We will tailor-made a flight plan for you included destination, weather condition & various situation. You also can choose where you wanted to go any airports globally.
Photos taking in simulator – WFA crew will lead you to the simulator room. You will sitting on the left seat, one of your guests can seat behind you. The moment can't missed is photo taking, in order to capture this unremarkable moment!
Flight simulation experience – You are now sitting on the commander seat of Cessna C172/Tecnam P2006T, your instructor will recap how to control & how to read those instruments, and then you're ready to take-off!
WFA Gift Shop – After you land and parked, welcome to our shop to purchase aviation gift.
Frequency Asked Questions
Do I need previous flying experience?
Definitely not required, the unique flight simulation journey will tailor-made for you based on your knowledge and ability.
Can I really control the flight simulator?
Of course you can, you will fly the plane under your control.
What is the basic knowledge requirements for me to understand the briefing?
No worry! WFA crew will make the briefing and flight planning based on your level, you will be a simulator pilot anyway even you don't have any knowledge about flying.
The flight simulation setting is one-to-one or under group?
The simulation setting is one-to-one.
Can I bring along my friend to experience the fun ride?
Of course, there is one observer seat available behind your seat in the simulator, your friend can observe your flight free of charge.
What is the minimum age?
Our recommend the minimum age start from 4 and no limits on elderly.
Is it the simulator under the sealed space?
Although our simulator is not under the sealed space but can offer high fidelity visual effects which can accommodate whom having claustrophobia.
Do the simulator have motion?
Although our simulator is a fixed device but you can experience almost real by the 180 degree visual and buttkicker effects on pilot seat.